For our latest timetable, click here =>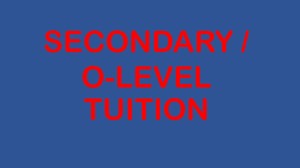 ===============================================================
ORIGINAL POST(OUTDATED):
Related links:
O-LEVEL | SEC | PHYSICS TUITION
O-LEVEL | SEC | A. MATH TUITION
O-LEVEL | SEC 1-4 | MATH TUITION
O-LEVEL | SEC | CHEMISTRY TUITION
O-LEVEL | SEC 1-4 | ENGLISH TUITION
O-LEVEL | SEC 1-4 | MALAY LANGUAGE TUITION
———————————————————————————————————–
Level/Subject:  Sec 4 Social Studies
Day/Date:  Thurs 21 Mar 2013
Time: 2.00pm to 5.00pm
Location:  Bukit Batok Central
Fee:  $100
Contact: 97860411
What is covered in the workshop:
1) Avoid deadly mistakes made by students that cost them to lose marks in the Social Studies exam
2) Know what examiners look out for in the source-based and essay questions
3) Know what your answers need in order to score a Distinction
4) Hands-on Practice
….. and many more winning exam tips and strategies based on 12 years' of success in teaching this subject……
To sign up, contact 97860411.
Tutor: Ms June Foo
Ms June Foo is an ex-MOE school teacher who now prefers to devote her love of teaching to tutoring students on a private basis. She has close to 20 years' tutoring experience, and has taught in mainstream secondary schools, the Gifted Education Programme (Secondary) as well as junior college.
She hopes to help students realise their full potential by giving them the guidance and motivation necessary to perform well in the subject areas she coaches.
Alumni
Methodist Girls' School
Raffles Junior College
Ms Foo's Academic & Professional Qualifications
Bachelor of Arts (Merit) – National University of Singapore
– English Language & History majors
Bachelor of Arts (2nd Upper Honours) – National University of Singapore
– History
Masters of Arts (Distinction) – University of Hull, United Kingdom
– Southeast Asian Studies
Postgraduate Diploma in Education, Secondary-Level (With Credit) – Nanyang Technological University, Singapore
– English Language & History
Foundation Course in Gifted Education – Ministry of Education, Singapore
Masters of Arts in Contemporary China – Nanyang Technological University, Singapore