GENERAL PAPER INTENSIVE REVISION

(SEPTEMBER /OCTOBER)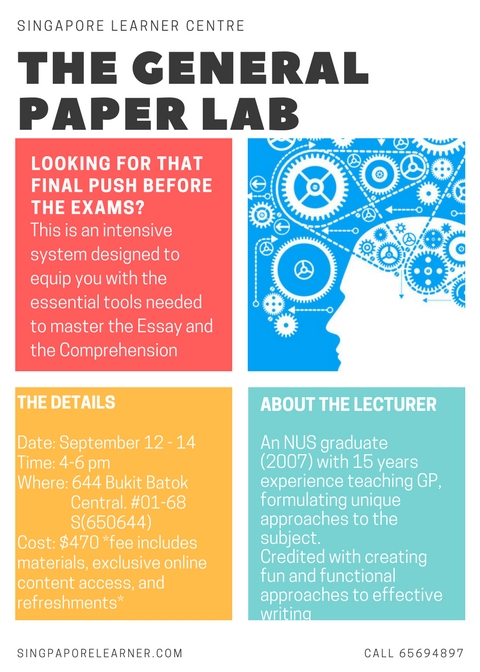 GENERAL PAPER PROGRAM (SEPTEMBER)
Level: JC1
Fees: $470 (3 days course, 2 hours per session)
For enquires, kindly call/ sms 9108 8581(Tutor) or 65694897(Office)
TO REGISTER, SMS <STUDENT NAME>, <GP-SEP> TO 98530744.
———————————————————————————————————–

A-LEVEL GENERAL PAPER REVISION PROGRAM (OCTOBER)
Level: JC2
Fees: $470 (3 days course, 2 hours per session)
For enquires, kindly call/ sms 9108 8581(Tutor) or 65694897(Office)
TO REGISTER, SMS <STUDENT NAME>, <GP-OCT> TO 98530744.
———————————————————————————————–
BUKIT BATOK BRANCH SCHEDULE:
Weekly General Paper Sessions
1)    Weekly Content Series (JC1 and JC2- combined)
These sessions are designed to cover a wide range of content topics that students may be lacking in. Since schools can only dedicate cursory glances at content due to syllabus and time-restrains, many students end up with insufficient grasp of the topics covered. Each week, I will be conducting lecture style sessions in small focus groups to boost your general knowledge, and pinpoint examples that can be used, and that are easy to remember. Topics to be covered will include: Sports, World Politics, Economics, Culture and Identity, Environment, Population Issues, Gender, and Human Rights, just to name a few.
2)    Weekly Focus Groups (JC1 and JC2 individual/groups available)
These are discussion panels engineered to give students more personalised and individual assistance with their work. Panel-sessions provide the perfect opportunity to engage in verbal warfare- the debate! This is also the ideal time to give students specific pointers based on their own essays, as well as address any questions/concerns students may have. Group-sizes are also limited to no more than 3, so as to ensure all participants maximize their time with the tutor. Lessons are customized week-to-week to be student-driven, and to ensure nothing is redundant.
Administrative matters:
1)    Sessions will be conducted weekly, Tuesdays -Thursdays, 3pm-5pm, or 6pm to 8pm). Each session will last 2 hours, with a 5min interval/break.
2)    Content Series Sessions will run once a week, every Friday, from 2pm to 4pm.
3)    Fees are fixed at $100 per session for Focus Groups (or $50 per hour). Individual 1-to-1 sessions are available for an additional $20 only.
4)    A fee of $60 per session ($30 per hour) is applicable for every Content Series session.
———————————————————————————————————–
Location:   Blk 644, Bukit Batok Central, #01-68. S(650644).
Our location is just a 3-min walk from either the Bukit Batok MRT station or the Bukit Batok Bus Interchange. Buses that stop along the roads surrounding our location are numbers 157, 178, 66, 506, 173, 174, 176, 187, 985. Buses services which terminate at Bukit Batok Bus Interchange are 61, 77, 106, 173, 177, 189, 852, 941, 945, 947.
TO REGISTER, SMS <STUDENT NAME>, <WEEKLY CONTENT/ WEEKLY FOCUS> <DAY & TIME> TO 98530744.
For enquries, kindly call 9108 8581
========================================================
TAMPINES BRANCH SCHEDULE:
"YOUR COMPANION ON YOUR INTELLECTUAL ADVENTURE: UNDERSTANDING YOUR LEARNING NEEDS"
Level 1: Understanding Your Struggle with and the Requirements of H1 GP
Our intellectual adventure begins with trying to understand what specifically H1 GP requires of you, and your unique challenges meeting these requirements. For this, it would be ideal if you could provide an essay and comprehension paper you have attempted at school or have been assigned as homework by your teacher: otherwise, you will have to start writing an essay and attempt a new comprehension paper from scratch. I will then analyse your writing to identify any gaps in your understanding, critical thinking, and argumentation, so that I can design a differentiated curriculum or appropriate intervention to meet your specific learning needs. This is imperative if we are to fight the beast that is H1 GP, for you must understand this monster if you wish to conquer it.
Level 2: Aiming for Vocabulary that is Wide and Precise Enough to Convey Your Arguments Accurately and Convincingly
Contrary to popular belief, it is not necessary to fully understand every word in the prescribed text, to achieve a distinction in this paper, for you often merely need to be able to gauge the overall meaning, to answer an indirect question posed by the paper. It is more important that you get the main point the writer is trying to convey. If your vocabulary is too limited to read the prescribed texts with ease, we need to broaden your vocabulary, and subsequently ensure you can remember the information for instant recall and use during reading and writing, with Mega Memory and Advanced Mega Memory techniques available for download here or here. Reap the benefits of the Mega Memory course, also for any subject that requires you to remember and recall factual knowledge.
It is also imperative that you read the questions first, and then read the relevant sections of the text, one sentence at a time, and in doing, so constantly ask yourself, if that specific sentence answers the question. This sentence by sentence reading of long text, facilitates processing, as reading the entire paragraph at one go, would often overload the working memory or cognitive ability of many GP students already struggling to decode or comprehend the words presented in the text. Readers with limited vocabulary are in a precarious position, when they are unable to infer the meaning or new words, which leads us to learning how to make inferences.
——————————————————————————————
JC1 General Paper:      Sunday | 1.00 pm – 2.30 pm |
Message from our GP tutor, Mr Lau.
———————————————————————————————————–
Administrative Matters:
Location: Blk 825 Tampines Street 81 #01-48 S(520825)
Tel: +(65) 67896198, +(65) 93460054 (SMS)
TO REGISTER, call  93460054.
_______________________________________
TUITION CLASSES:
         
_______________________________________________________________
EDUCATIONAL SERVICES:
______________________________________________________________
By EX-MOE TEACHERS & EXPERIENCED TUTORS
@ BLK 644, BUKIT BATOK CENTRAL, #01-68. S(650644).
CALL

65694897

OR SMS

98530744 

OR

97860411.