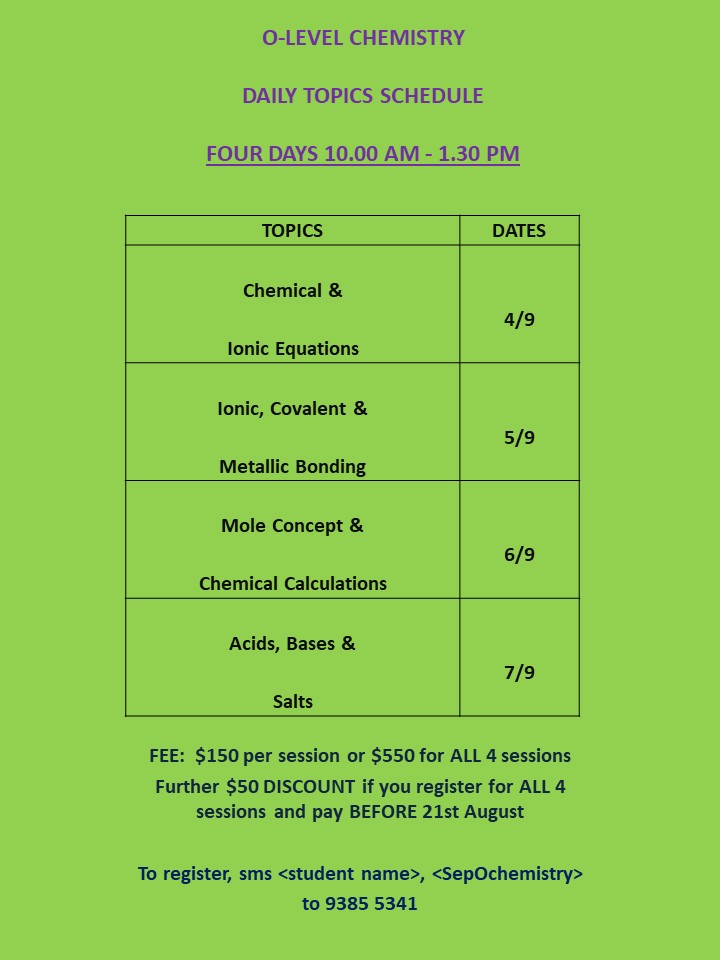 Location:
Blk 644, Bukit Batok Central, #01-68. S(650644).
Focus: CONCEPTUAL UNDERSTANDING & APPLICATION OF SKILLS
Format: Teaching + Worksheets + Discussions
Fee: $150 per session or $550 for ALL 4 sessions
Further $50 DISCOUNT if you register for ALL 4 sessions and pay BEFORE 21st August
Program Director:  Mr Muhammad Ilyasa (M.Ed., PGDE, B.Sc, Ex-MOE Teacher, Full-Time Tutor of 'O' and 'A' Level Physics, Chemistry and Mathematics since 2004).
Mr Ilyasa has been coaching students for more than 10 years. An alumnus of RI and RJC, Mr Ilyasa holds both a Master of Education degree and a Postgraduate Diploma in Education with Credit from the National Institute of Education, as well as a Bachelor of Science degree from the National University of Singapore.
TO REGISTER, SMS <STUDENT NAME> , <SepOchemistry> TO 93855341.
As places are limited, pre-payment is encouraged to confirm your attendance. You can make cash or cheque payment by visiting the centre at the address above.
(Our location is just a 3-min walk from either the Bukit Batok MRT station or theBukit Batok Bus Interchange. Buses that stop along the roads surrounding our location are numbers 157, 178, 66, 506, 173, 174, 176, 187, 985. Buses services which terminate at Bukit Batok Bus Interchange are 61, 77, 106, 173, 177, 189, 852, 941, 945, 947)