Related links:
P4-P6 MATH TUITION  (2015 – REGISTER NOW!)
P4-P6 SCIENCE TUITION  (2015 – REGISTER NOW!)
P4-P6 ENGLISH TUITION  (2015 – REGISTER NOW!)
——————————————————————————————————–
The following system ranks primary schools according to the number of gifted classes available in a school from P4-P6, and how many awards they have obtained in 2011. The information has been taken and analysed from the MOE's website.
For ease of reading, the numbers in the table under each column heading is the number of awards/classes there are, while the number in [ ] is the points that we assign to each award/class based on our judgement of the perceived relative importance of these programmes or awards. The Total is the number of points obtained by each school for the purpose of our ranking.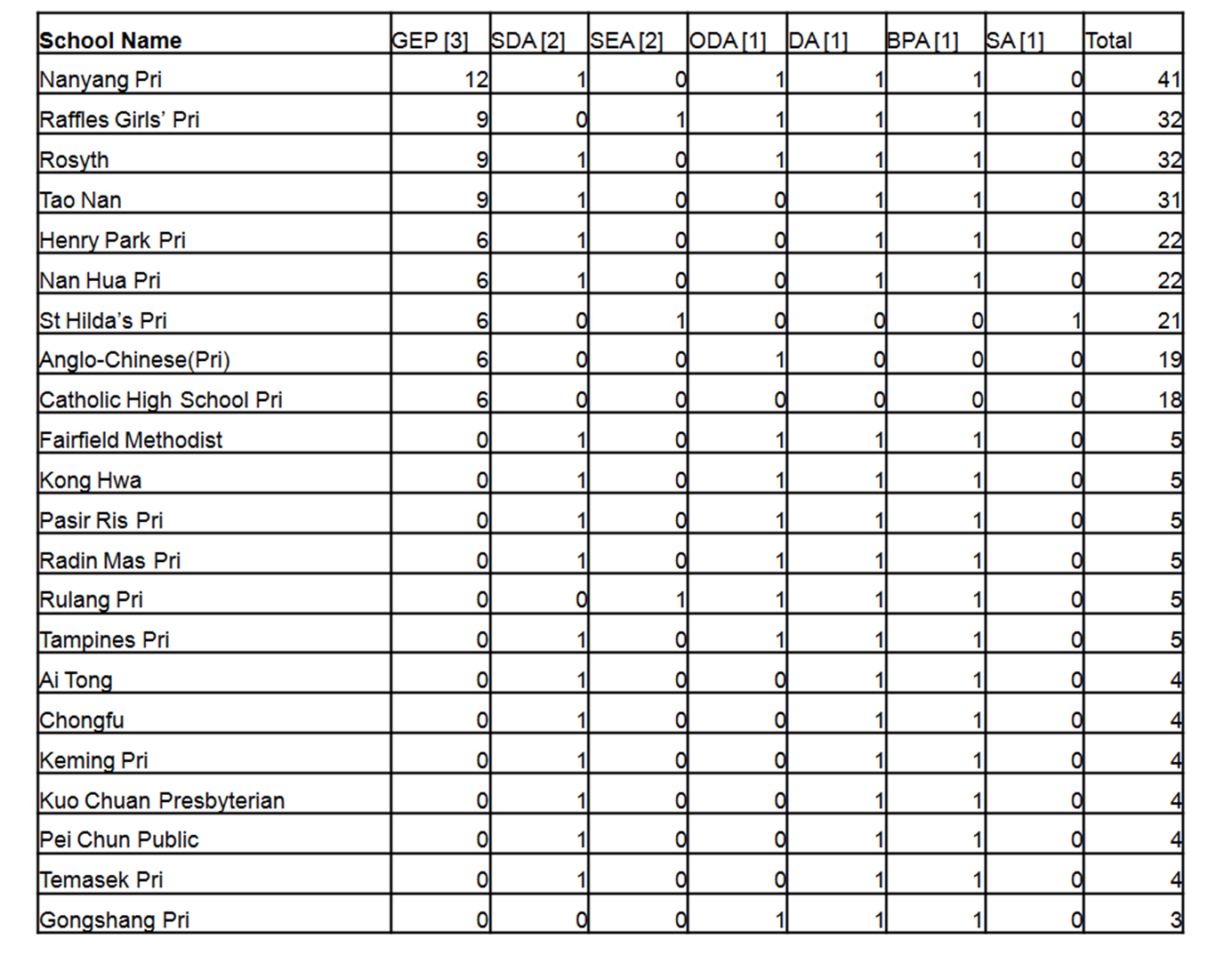 Gifted Education Programme (GEP)
As the presence of GEP classes in a primary school is an indication of the recognition and support that such schools have from the government, 3 points are awarded for each class present in the school from Primary 4-6.  
School Distinction Award (SDA) & School Excellence Award (SEA)
As the SEA and SDA are very prestigious awards for a school, 2 points will be awarded for each of these awards obtained.
The following awards are assigned one point each for the purpose of computation of the ranking:
Development (DA) and Outstanding Development Award (ODA) (National Education)
Development (DA) and Outstanding Development Award (ODA)(Character Development)
Best Practice Award (BPA)
Special Award (SA)—Lee Kuan Yew National Education Award (LKY NE Award)